Core P5 Build
This is a display build made by one of our team. The system in on display in one of our resellers stores.
Case: TT Core P5
CPU: I7-3960X
Motherboard: ASUS R4BE
GPU: 980TI
Memory: Kingston 8G DDR3 1600
PSU: Greatwall DRAGON 1000W
Radiator: XSPC AX480
Memory Blocks: XSPC Memory WaterBlock Set
CPU Block: XSPC Raystorm Pro
GPU Block: XSPC Razor GTX 980 / 980 Ti
Reservoir/Pump: XSPC D5 Photon 270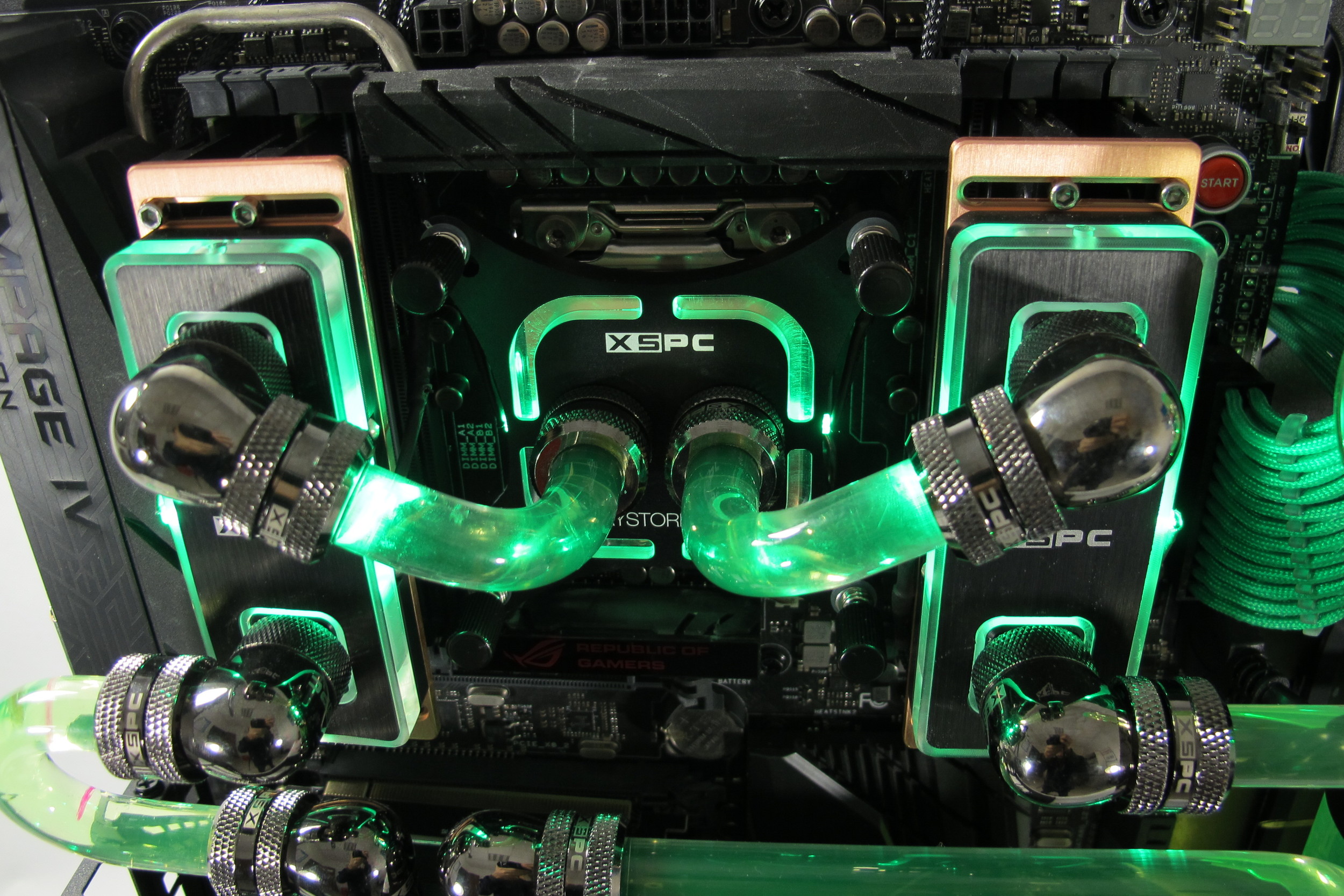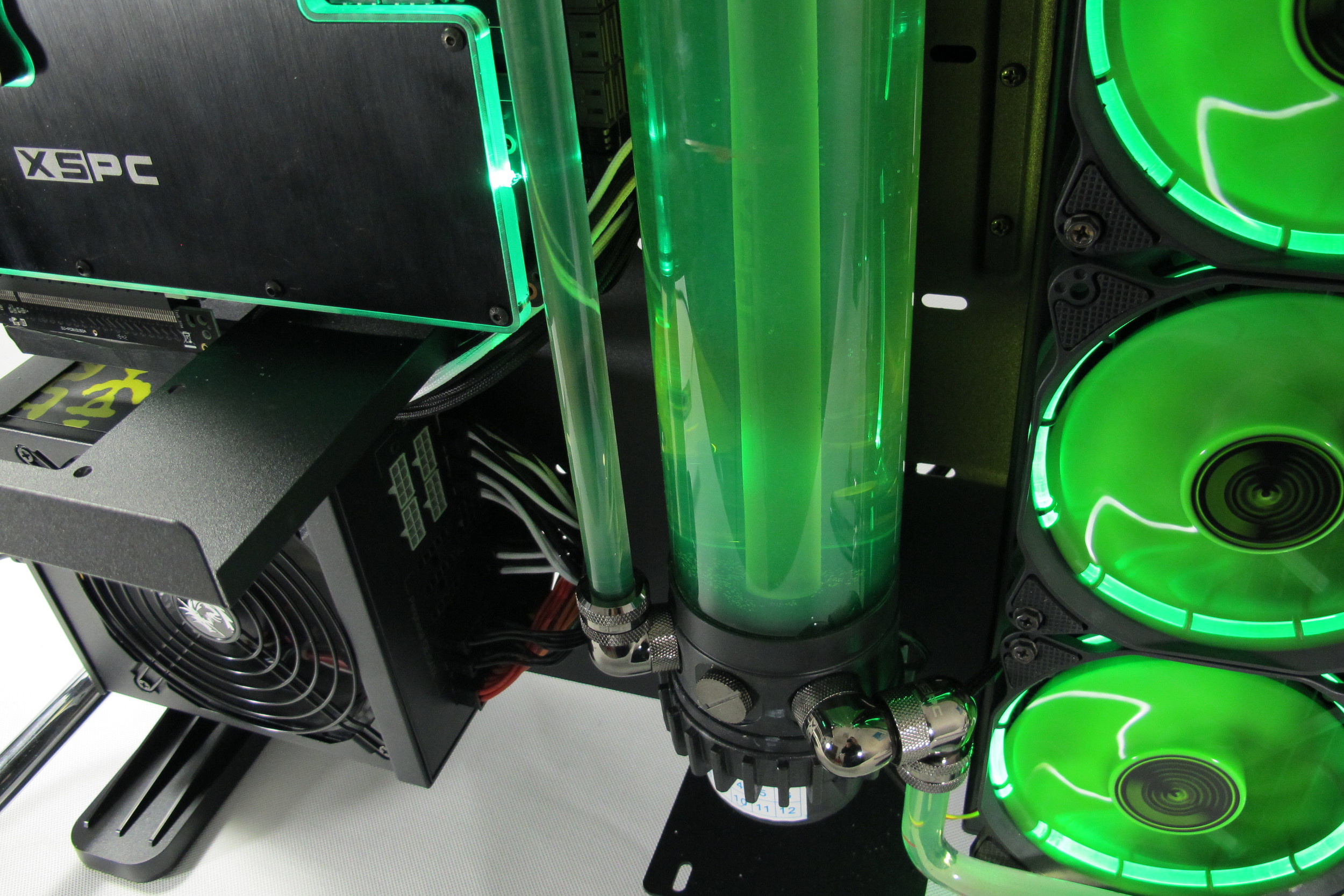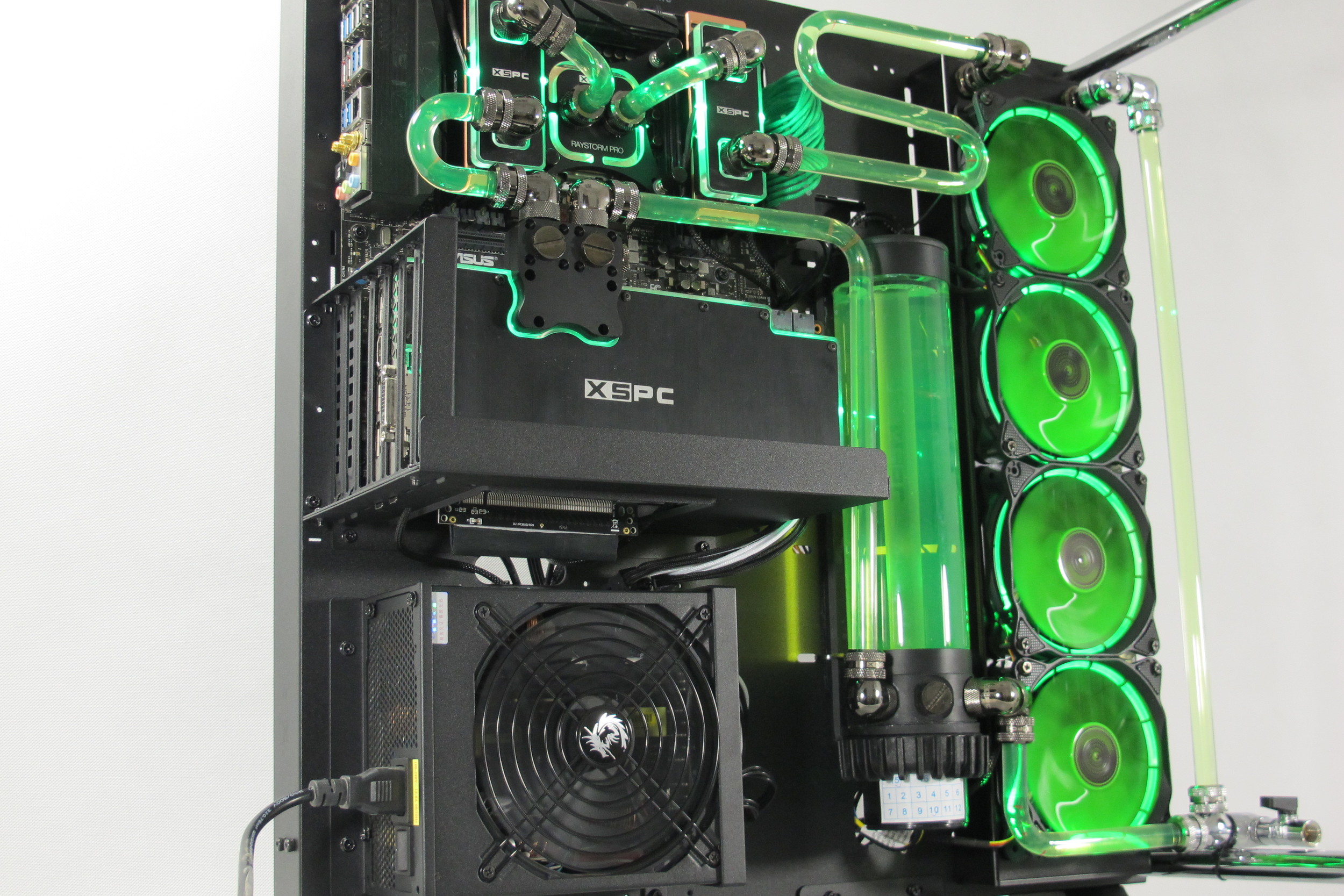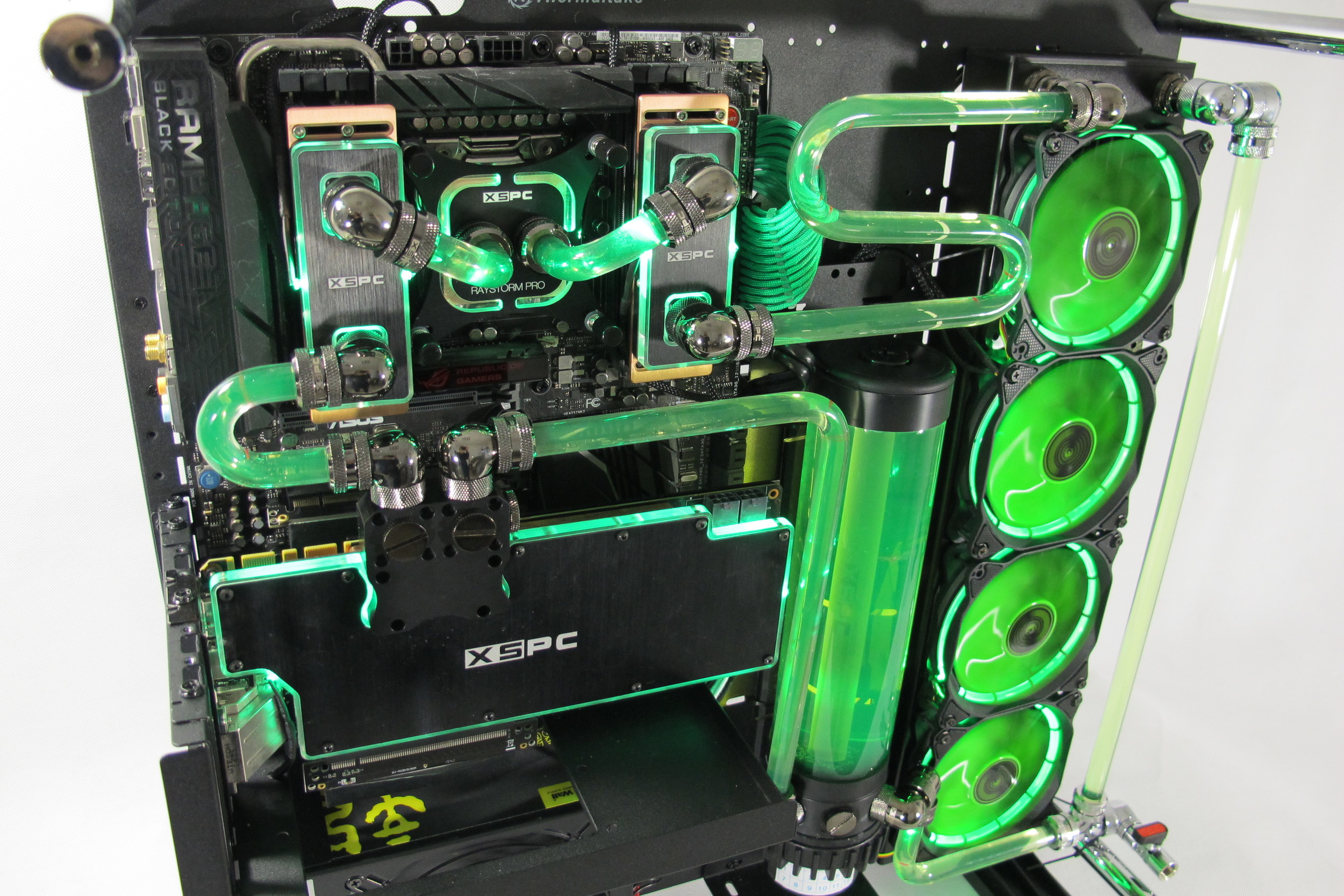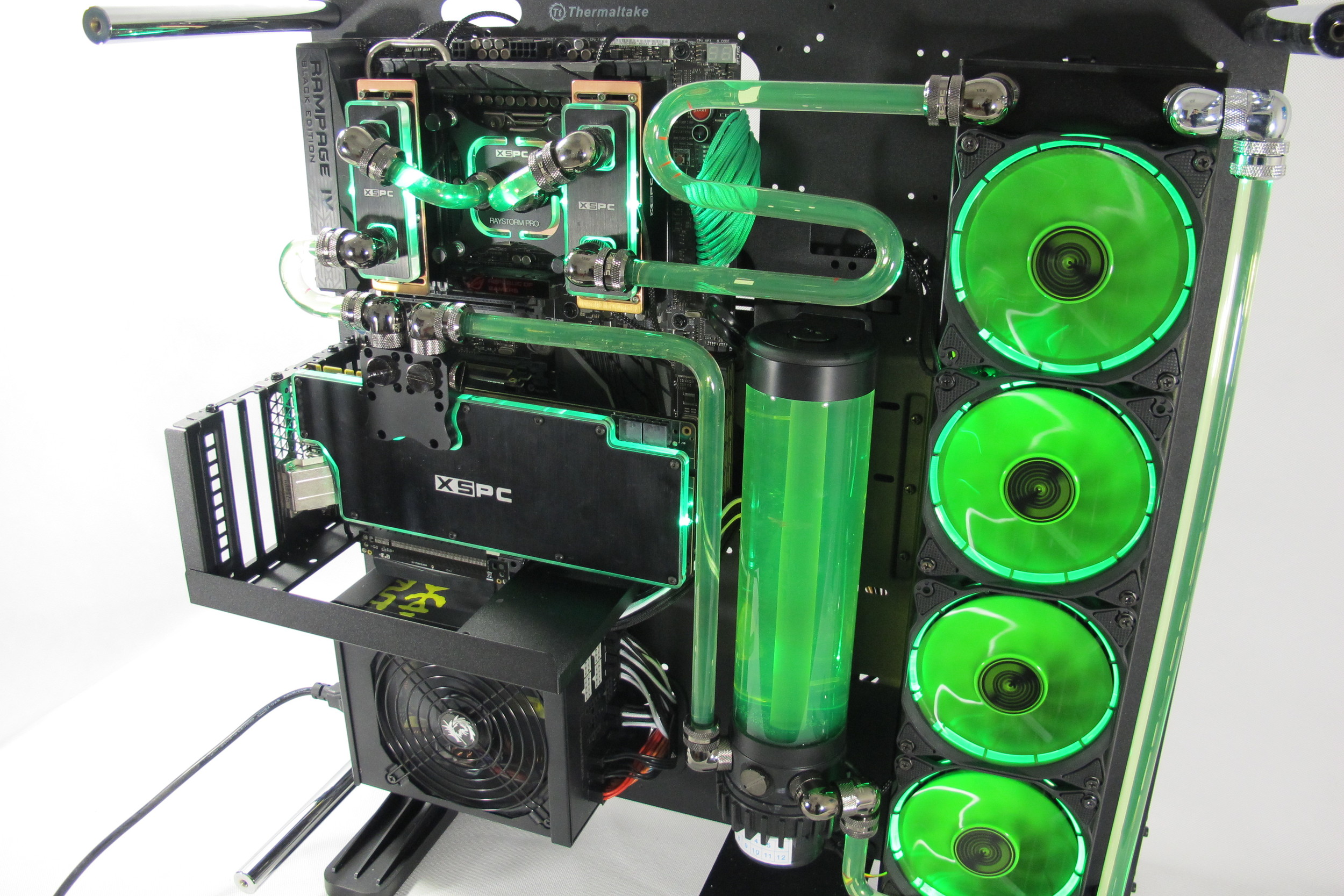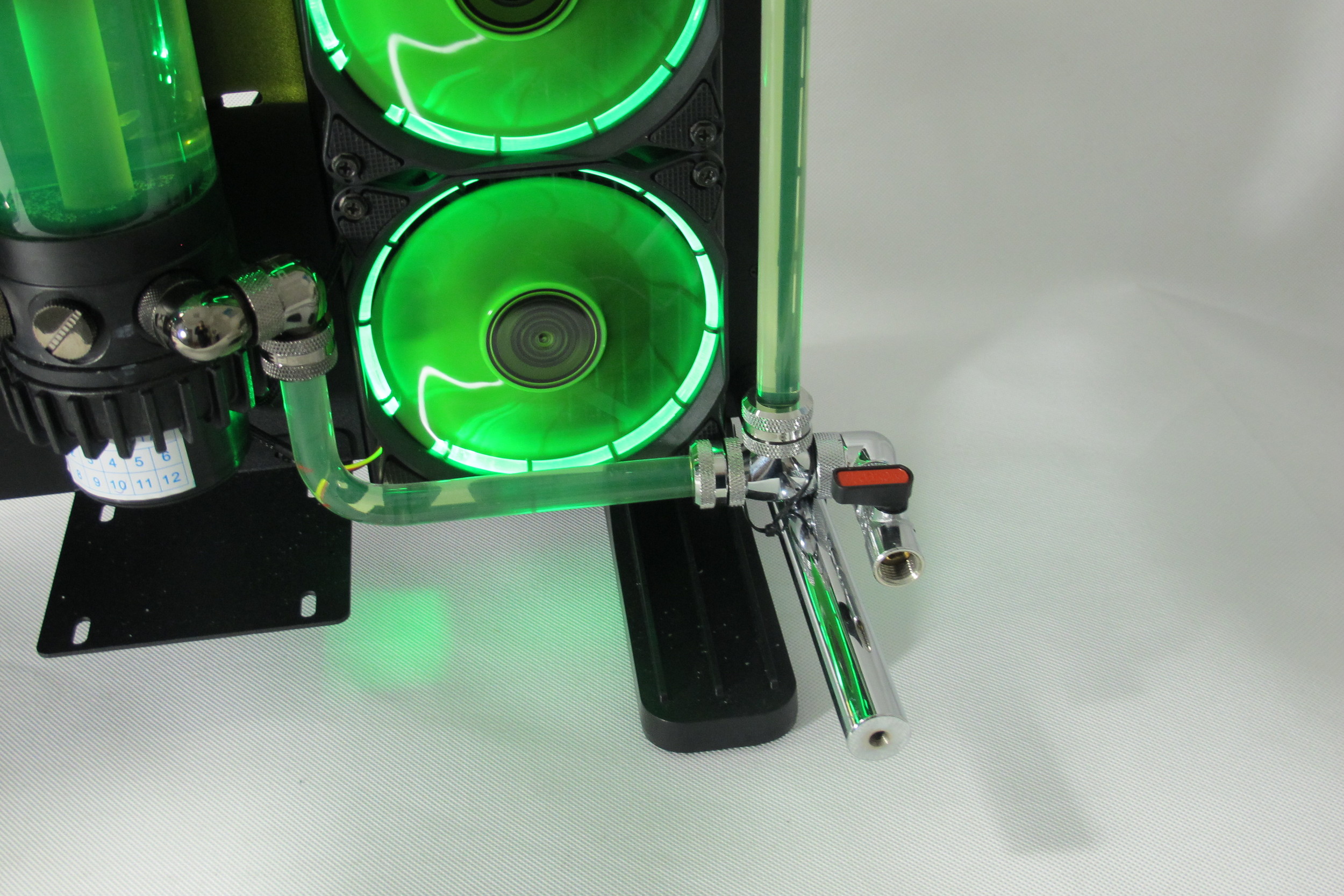 i45 H2 Mod
Built primarily as a display case for the UK's largest gaming events on the calendar, Insomnia I45 Summer LAN back in 2012, this was not so much a mod as such but more of an XSPC showcase highlighting the use of various components and to show how versatile the H2 chassis is at running dual loops with the huge EVGA SR-2 motherboard.
Hardware:
H2 Tower+ Case (10PCI)
Raystorm CPU Blocks
EX480 + EX360 Radiators
Laing D5 Bay Res
7/16" High Flex Hose
XSPC EC6 Red Coolant
Red LED Fans
EVGA SR-2 Motherboard
Intel Xeon X5650 CPU's
EVGA GTX480 Sli
Kingston HyperX SSD + 24GB RAM
Coolermaster 1300w Hybrid Modular PSU
Lamptron FC6 Fan Controllers
Build by: Coolermeister
TCM Mod
TCM Gaming are a highly successful, professional gaming team who wanted a gaming rig they could be proud of which would travel to all their future events worldwide.
Given a totally free reign, my main criteria was to build something that not only stood out in the crowd but also to incorporate the TCM logo and fill it up with the best high end gaming hardware i could get my hands on.
The end result was something that ticked all boxes!
Hardware:
CoolerMaster Cosmos II
Coolermaster 1300W Hybrid PSU
Asus Z9PE-D8 WS Motherboard
Intel Xeon E5-2687W s2011 CPU's
GTX680 GPU's
Kingston Limited Edition HyperX 48GB Memory
Kingston HyperX SSD's
XSPC EX360
XSPC EX240 Multiport x2
XSPC Raystorm CPU + GPU Blocks
XSPC Dual DDC Bay Res
DDC Pumps
Bitspower Fittings
7/16" Masterkleer Hose
XSPC EC6 Liquid
Coolermaster 120mm Fans
Build by: Coolermeister